in a return to otherworldly dreamscapes, zyva studio's anthony authié and maison de sable's charlotte taylor envision their 'neo-chemosphere.' the duo's second collaboration follows the villa ortizet, a surreal series of monochromatic green interiors emerging from a weathered, rocky context. the work is developed as an homage to john lautner, an american architect who's mid-century work in los angeles recalls the space-age vision of flying saucers and futuristic dwellings. in response to the COVID-19 crisis together with the broader change in climate, the two designers imagine a post-anthropocentric world. within this alternate reality, a lautner-esque dwelling is staged among an uncanny pink world. with this new context, the paris-based duo seeks to suggest the archaeological site of a supposed extraterrestrial, somewhere along the shores of marseille calanques.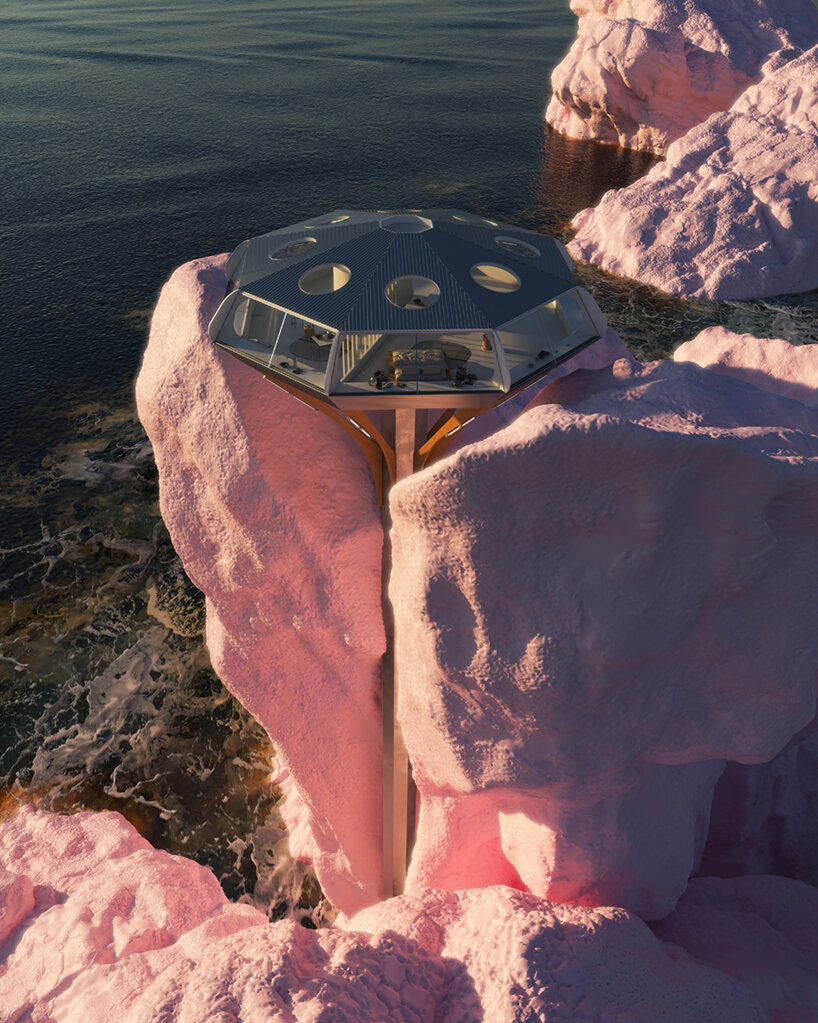 images © anthony authié, charlotte taylor
with neo-chemosphere, zyva studio and charlotte taylor design an octagonal dwelling elevated atop a pillar and wedged between the surreal pink cliffs. the centralized floor plan spans fourteen meters in diameter. the interior is finished entirely with a white resin which generates a vibrant contrast with the surrounding pink environnement. the space maintains an atmosphere of quiet peacefulness, inviting a contemplative mindset in dialogue with the beauty of its post-anthropocentric context.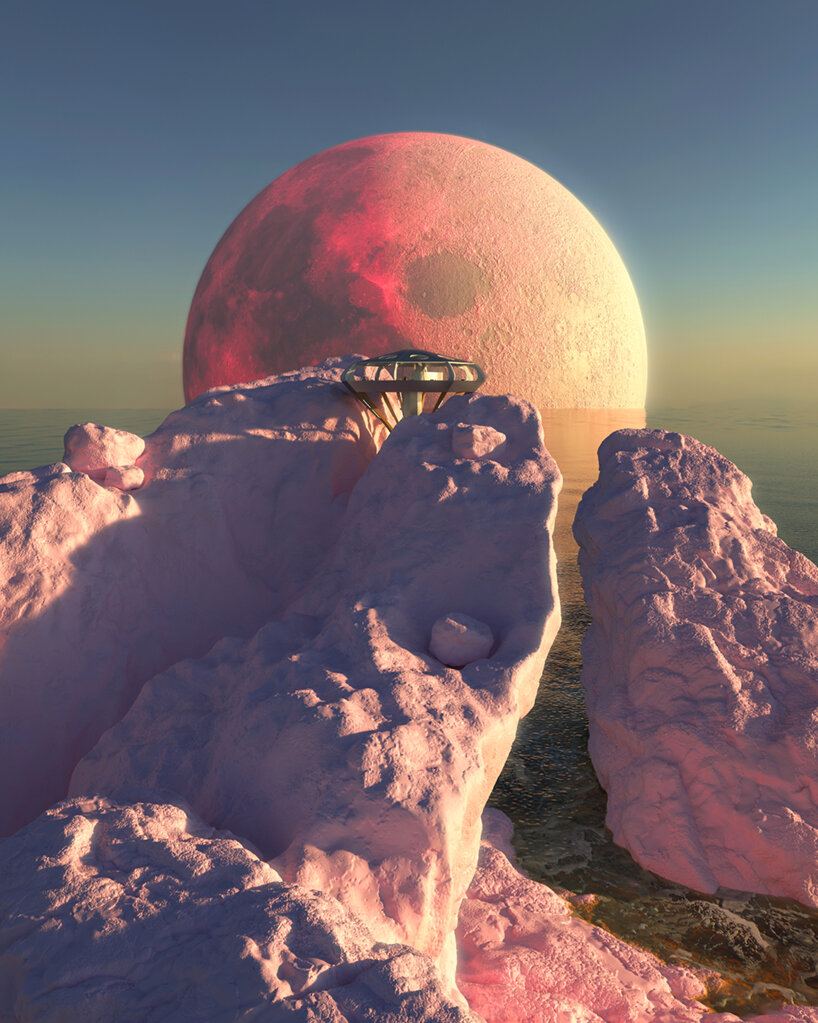 zyva studio and charlotte taylor's neo-chemosphere dwelling divides its programming with minimal use of interior partitions. instead, shifting interior elevations demarcate different uses — a bedroom space is elevated to look down onto a living area through a thin screen of louvres. the strict subdivision of the octagonal organization further informs the layout, together with circular, overhead skylights. this architectural language generates a balance between modernist and science fiction, suggesting both a california retreat and a villainous lair. the team comments on its influence drawn from the cinematographic visuals that emerged in the mid 70's. 'alien, 2001: a space odyssey, star wars, or rollerball are among the main inspirations. these iconic shows were the first forms of an exaggerated future getting us out of a insipid reality.'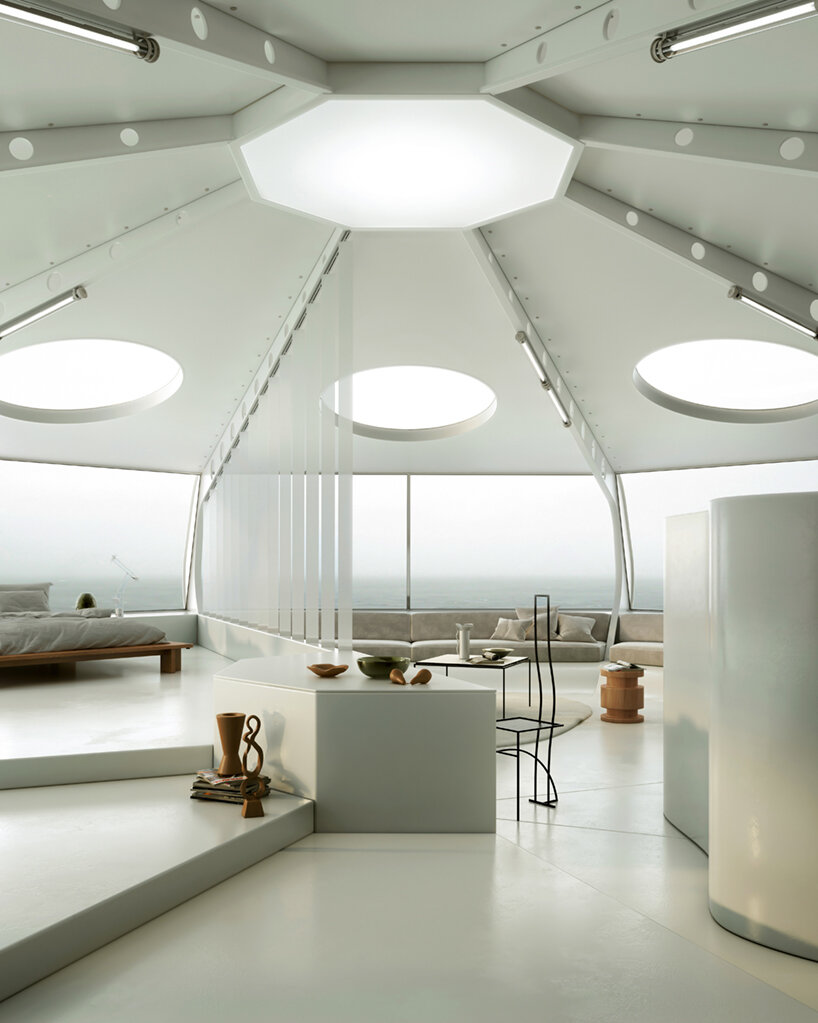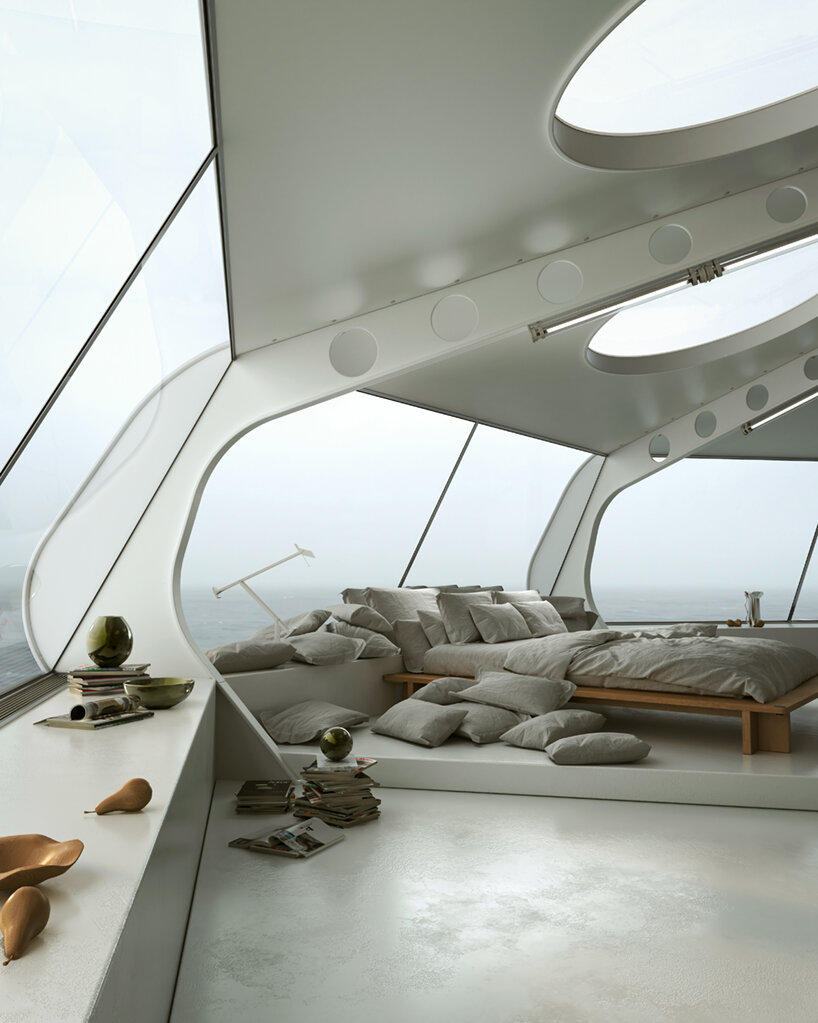 project info:
project title: neo-chemosphere
architecture: zyva studio | @zyvastudio, charlotte taylor | @charlottetaylr
completion: january 2021