An American exchange student who was studying in France has gone missing in the country amid claims he had struggled to make friends there.
Ken DeLand had begun his degree at St. John Fisher University in Rochester, New York, but was in Europe completing his studies. He was attending the Université Grenoble Alpes in the mountainous region of Grenoble, southeastern France, when he vanished. The 22-year-old was reported missing on November 29, with his worried family back home in the U.S. desperately seeking answers.
Grenoble prosecutor Eric Vaillant, who is investigating the disappearance, told local media that DeLand had said he felt "underprepared" to live abroad and was "having difficulty making friends."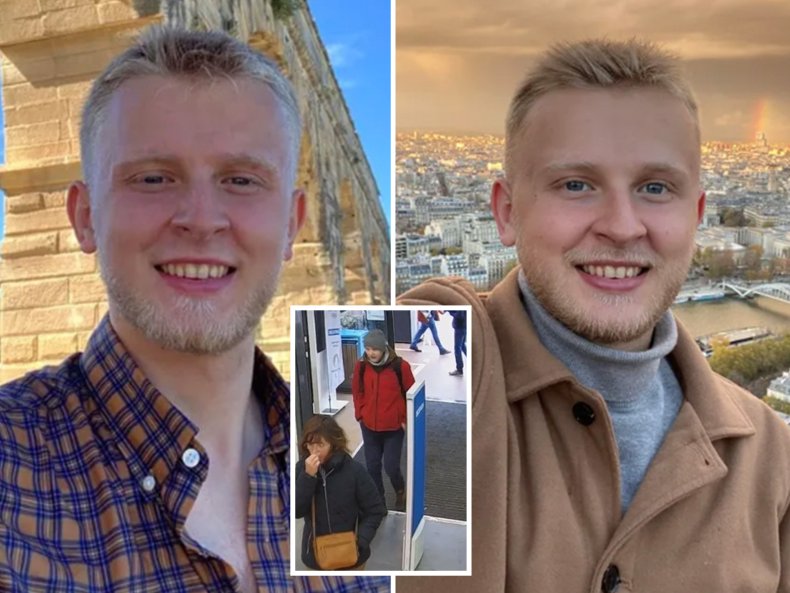 DeLand's father, Ken DeLand Sr., told local news channel WHAM: "We don't understand why he is not reaching out to us if he was reaching out on a daily basis, or every other day, like he was. It is just not characteristic of Kenny."
The student's mother, Carol Laws, told CNN that the last time she spoke to her son, it was "like any normal conversation that we've had." She added: "He was looking forward to coming home for Christmas and starting to put the plans in place for that."
DeLand's parents said they have limited information about the investigation due to French privacy laws. But they have launched a website, called www.findkendeland.com, in a bid to help find their son. They confirmed he had not settled in well at first, but said the situation had improved. "Initially, Ken struggled to fit in and make friends abroad," the website states. "However, he continued to remain positive and made great connections. We learned that he told friends in the United States and France that he wished to travel to Marseille before coming home."
Nevertheless, his family have become increasingly concerned after weeks without contact from him and wrote on the website: "We fear the worst and want him to be located; please share this information."
Timeline of known movements
November 27
DeLand chatted with his host family and left their home planning to catch a train to the French town of Valence. He also spoke with both of his parents over Whatsapp that day.
November 28
DeLand attended classes and spoke with his host family. The website set up by his parents says he also spoke with friends that day; it's unclear whether that meant new friends in France or his old friends back home. The family's website states: "Those that saw him in class on November 28th said Ken was normal and happy. All students and the host family have provided authorities with text messages and verbal communications. As far as we know, nothing is out of the ordinary."
November 29
DeLand did not turn up to class and his host family became concerned that they hadn't seen him. A missing person report was filed with the French authorities by the university.
According to his family's website, the subsequent investigation revealed that DeLand had actually packed a small bag that day, which included a change of clothes, his cell phone, a wallet, and a sandwich. It's also thought he had his passport with him. All his other belongings were left behind at his host family's home, including his computer, tablet, train pass, and phone charger.
A neighbor saw him leaving the host family's house and the pair chatted before he left. The website described the encounter, stating: "Ken had a conversation with his neighbor outside the host's house, which was said to have been positive. The neighbor said Ken seemed in bright spirits and excited for the day. We are unaware of the entire discussion or if the neighbor was informed if Ken was planning to travel."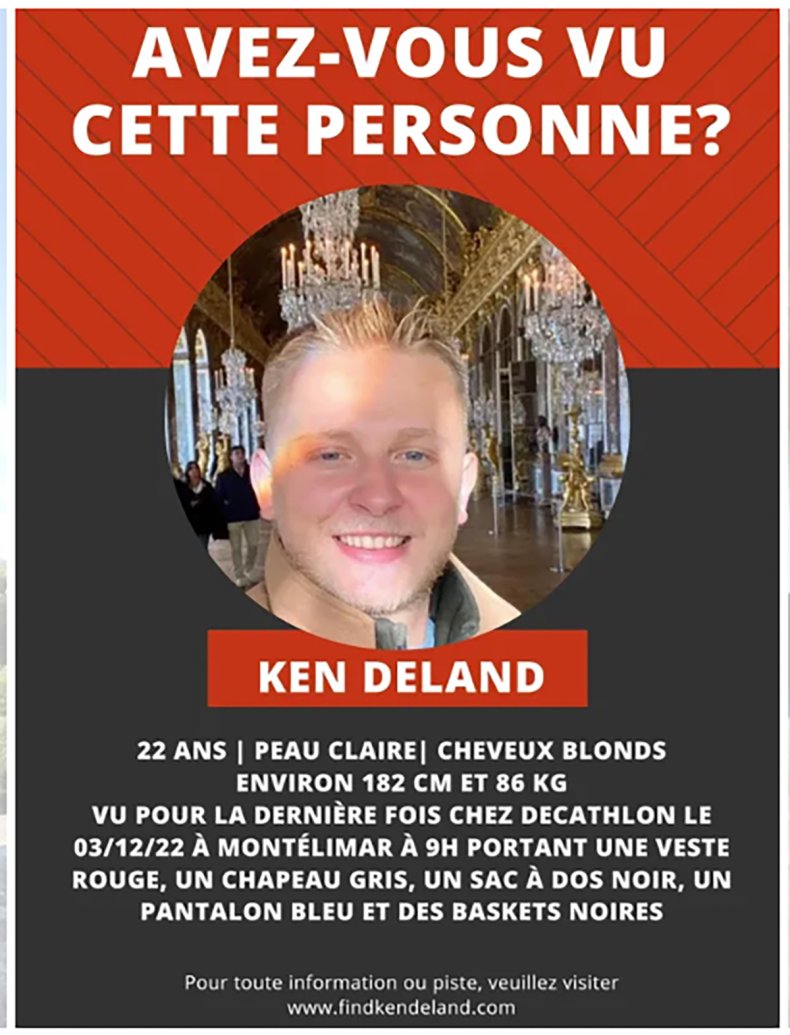 November 30
DeLand's cell phone was 'pinged,' meaning its location was recorded, at a train station in the French town of Valence train at around 7:00 p.m. It has reportedly not been 'pinged' since.
December 3
DeLand is seen on CCTV entering a Decathlon Sporting Goods store in the French town of Montelimar, about 87 miles from Grenoble, at 2:45 p.m. He spent the equivalent of $8.40, his bank later confirmed, although it's not clear what he bought.
The search to find Ken DeLand
DeLand's international studies were due to end on December 17, with his visa set to expire in the New Year on January 20. He was planning to return home to the U.S. for Christmas.
The student's family has begged for help and urged people in France to be on the lookout for him. He is described as standing roughly 6 ft tall and weighting 190 lbs. He has blond hair and was last seen wearing a red jacket, grey beanie hat, blue jeans, and dark sneakers. He was also carrying a black backpack. Anyone with information should visit the website www.findkendeland.com.
Newsweek has reached out to DeLand's family and French authorities in Grenoble for further information.