If there's one thing teenagers want most, it's to socialize with other teens. But if you're home-schooled, finding friends can be tough.
That's what led Shelby Dersa to start the Blue Water Homeschool Teens Cooperative last November.
"I've been home-schooling for a decade and wanted to create a valuable resource not only for my own children, but for other homeschoolers in the area," says Dersa, a resident of Port Huron.
Dersa and her friend and fellow homeschool parent Kelly Prososki run the cooperative.
"I was homeschooled myself starting in seventh grade, so I know what it's like to not get that socialization," she says. "So, I decided if I wanted to keep home-schooling my kids as they got older and give them a chance to be around other teens, I guess I needed to start the group myself."
Youth in the Blue Water Homeschool Teens Cooperative get together to play board games at the library.
The free, secular co-op is a hit among parents and, more importantly, teenagers.
When the group had its first get-together of the new school year on Tuesday, nearly two dozen teens and pre-teens turned out for activities at the Port Huron Public Library.
Unlike some homeschool groups that only meet monthly, the Blue Water co-op meets several afternoons a week for activities that encourage socialization. Mondays are for community outings to locations such as arcades, museums, or nature preserves. Tuesdays are usually spent together at the library doing science experiments, STEM projects, crafts, or games. Wednesdays are Teen Girl Club and Fridays are Dangerous Club for Boys.
Parker VanBaak, a 14-year-old from St. Clair, loves Fridays when the boys tear into electronics together to see how they work.
"One time, we got to take apart an Xbox to see what's inside," he says. "It's nice to go there and be social and make friends."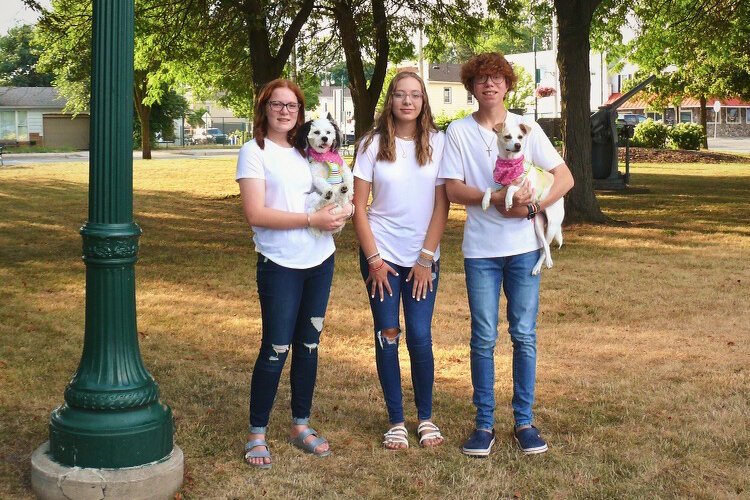 (From left) Siblings Gracie Clair, Zoey, and Parker VanBaak enjoy hanging out with other kids their age at the Blue Water Homeschool Teens Cooperative.
VanBaak and his older sisters, Gracie Clair, 15, and Zoey, 16, began attending the Blue Water Homeschool Teens Cooperative in January. Their mom, Kim VanBaak, says she is happy to make the drive to Port Huron a couple afternoons a week so her teens can hang out with other kids.
"I believe kids need to have interaction and this offers them the ability to socialize and make friends," says Kim VanBaak. "Everyone is so open and really, genuinely friendly."
The co-op also has a monthly book club, performs community service and offers a winter bowling league at Port Huron Lanes.
"We sometimes plan special events such as going to a paintball field, nerf gun fights, water balloon fights, glow-in-the-dark egg hunts for Easter, field trips, and parties," Dersa says.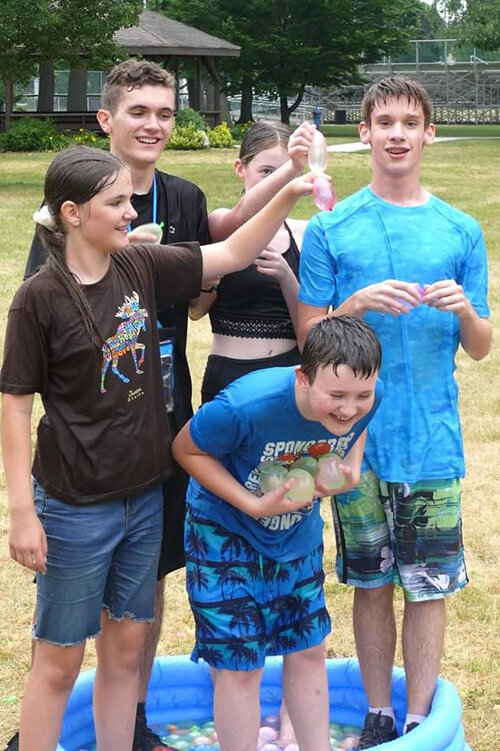 Participants in the Blue Water Homeschool Teens Cooperative enjoy a water balloon fight this summer at Pine Grove Park in Port Huron.Parents only pay for activities like bowling or field trips, or special learning kits, when needed. Other parents pitch in with certain activities or donate items for activities.
Dersa said there are many home-schooling families in the Blue Water region and the co-op is open to anyone with children ages 10 to 18. She says the teen co-op has been a welcome relief for many parents.
"As our kids get older, we want them to start being more independent and making friends on their own. And the kids want that, too," Dersa says. "But if you're home-schooled, how do you do that?"
Kim VanBaak and her husband, Aaron, agreed that it's difficult to find other home-schooled teens. But she's thrilled with the Blue Water Homeschool Teens Cooperative.
"Shelby and Kelly are amazing to take this on for our community," VanBaak says.
Dersa said that by the time kids become teenagers, many homeschooling parents are second-guessing themselves and considering pulling their kids out because they worry about the lack of socialization.
"I just hope our group can fill that void, so parents don't have to feel torn between sending them to a traditional school or homeschooling them," she says.
Dersa's oldest children, 15-year-old Melissa Loxton and 11-year-old Spencer Kesner are enjoying the chance to meet other kids their age.
"For the most part, Melissa is liking a lot of the activities," Dersa says. "My son is so shy, and it takes a lot for him to talk to kids … but he's doing it more and more now, which is just great."