Parents of two children gunned down in the December 2012 mass shooting at the Sandy Hook Elementary School have criticized the placement of Georgia Republican House Representative Marjorie Taylor Greene onto the House Education and Labor Committee, a committee that oversees issues of school safety. Their criticism stems from the fact that Greene has previously suggested that the Sandy Hook, Parkland and Marjory Stoneman Douglas High School shootings were all staged events meant to increase firearm regulations.
Mark Barden, father of Daniel Barden, and Nicole Hockley, mother of Dylan Hockley, two children gunned down in the Sandy Hook school shooting, said in a statement, "Having a Sandy Hook and Parkland denier on the House Education and Labor Committee is an attack on any and every family member whose loved ones were murdered in mass shootings that have now become fodder for hoaxers."
"We're grateful for people like Representative Jahana Hayes, who understand that hateful conspiracy theories and suggestions that are children's violent deaths, never happened, have no place in society, much less the United States Congress," Barden and Hockley added.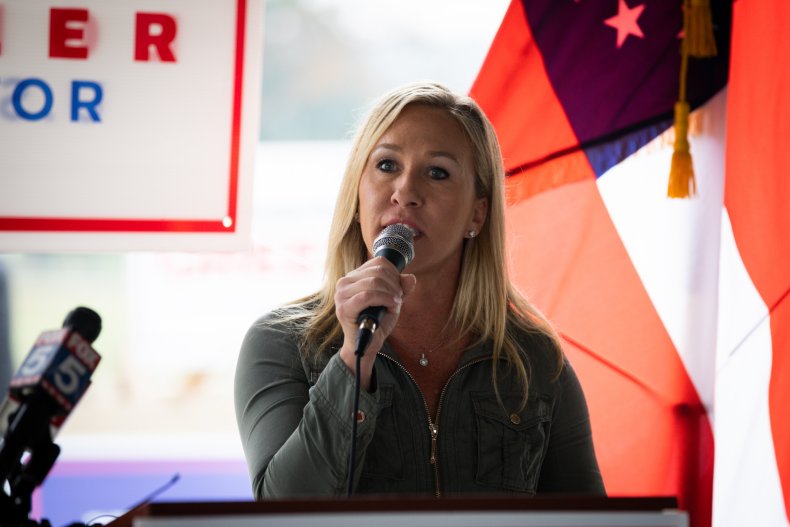 On Thursday, Hayes wrote a letter to the House Education and Labor Committee asking that Greene not be seated on it.
"Giving Representative Greene the platform to spread dangerous dogma only rewards and normalizes his abhorrent behavior, places already vulnerable groups in danger and further traumatizes survivors," Hayes wrote.
On Facebook in 2018, Greene claimed that Democratic House Speaker Nancy Pelosi of California regularly told former Secretary of State Hillary Clinton several times a month that "we need another school shooting' in order to persuade the public to want strict gun control," according to the watchdog group Media Matters.
Pelosi has also expressed disappointment with Greene's seat on the education committee.
In a May 2018 Facebook comment thread, Greene agreed with a comment that claimed that the February 2018 mass shooting at Marjory Stoneman Douglas High School was "a false flag planned shooting." A "false flag" is a conspiracy theory term for an act in which the actual responsible parties are hidden and the blame is pinned on others.
"Exactly," Greene replied to the claim.
In June 2018, Greene agreed with a Facebook commenter who wrote, "None of the school shootings were real or done by the ones who were supposedly arrested for them." Greene liked the post and replied, "That's all true."
In March 2019, a video showed Greene heckling David Hogg, a firearms regulation activist and survivor of the 2018 Parkland High School shooting, telling Hogg that he was "brainwashed." She has publicly called Hogg a "coward" and #littleHitler on social media, a reference to Adolf Hitler, the World War II Nazi leader.
On Wednesday, Democratic California Representative Jimmy Gomez said he would introduce a resolution to expel Greene from Congress over her past social media posts which called for violence against Democratic politicians and promoted extremist conspiracy theories.
Newsweek contacted Greene for comment.