Luba Pavlovska was born and raised in a small town in Ukraine (Izmail, Odesa region). At the age of 15, she became the
finalist of FLEX program
, which allows Ukrainians to become high school exchange students and stay with an American family for one academic year. Pavlovska attended Bay City Western High School in 2007-08 and stayed with Woods family – Gina, Matt and their two children, Austin and Mattisyn.
"That was great time and a very big and important experience," Pavlovska says. "The practice of English during that year is still helping me nowadays. I am a Project Manager in and IT company and our client is from the US. All of the communications are done in English, and my US background makes the project delivery easier for both sides."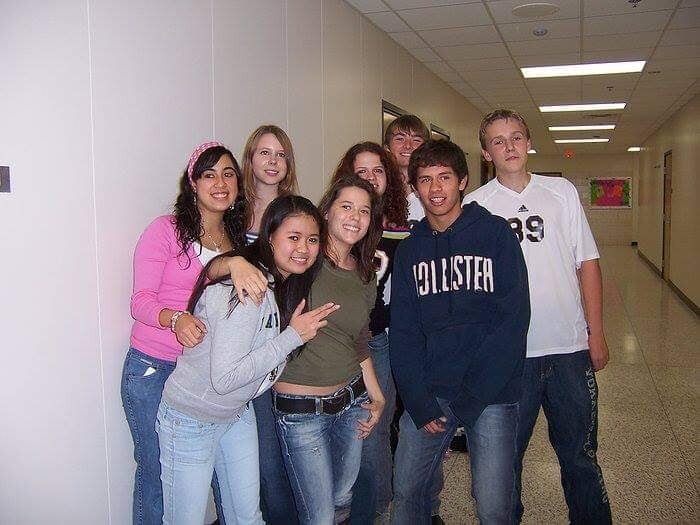 Luba Pavlovska, center in the green shirt, poses with other exchange students at Bay City Western High School during the 2007-08 academic year.Question: Can you tell us what's happening right now where you're at?
Answer: I'm staying in Ternopil, it's about two to three hours by car from Lviv. My friends' parents live here, and they kindly let us live in their apartment. We came here on Feb. 27 from Kyiv. It's a quiet and safe city. We don't have any bombing or air attacks here. The only thing that bothers us are the planes/missiles that are coming from Russian warships in the Black Sea and their target is Lviv. So, they are passing us above our heads. We still have sirens in the city and people go to basements just in case. You never know what is going to be their next target.
Q: What were you hearing and doing in the days leading up to the Feb. 24 invasion?
 
A: When the war had started, I was in Kyiv (I have been living in Kyiv for 14 years). I woke up at 6.30 a.m. and saw tons of messages from my friends and colleagues saying sad things because of the invasion. Some people texted they had heard the explosions in Kyiv (luckily, I didn't that night). Some of colleagues said they had packed their staff and were leaving Kyiv ASAP. People stared to panic. I decided to stay at home for this day and try to keep my normal life, trying to work from home. But the panic took the advantage of me. Every hour, I could hear something flying above my house and some explosions far away. People started reporting that saboteurs/diversionist are in the city, and they started shooting people on the streets. I spent the next morning in the underground (subway) because of missile attacks. (The underground is still one of the safest places in Kyiv for many people who decided to stay in the capital). On Friday afternoon, Feb 25th, me and my boyfriend decided to leave the city by our car. It took us three days to get to our destination point (in normal life you can get to Ternopil in seven to eight hours). But because of panic, all main roads were stuck in traffic jams. My colleagues spent about five to six hours in the traffic only in Kyiv and the region trying to get to Lviv.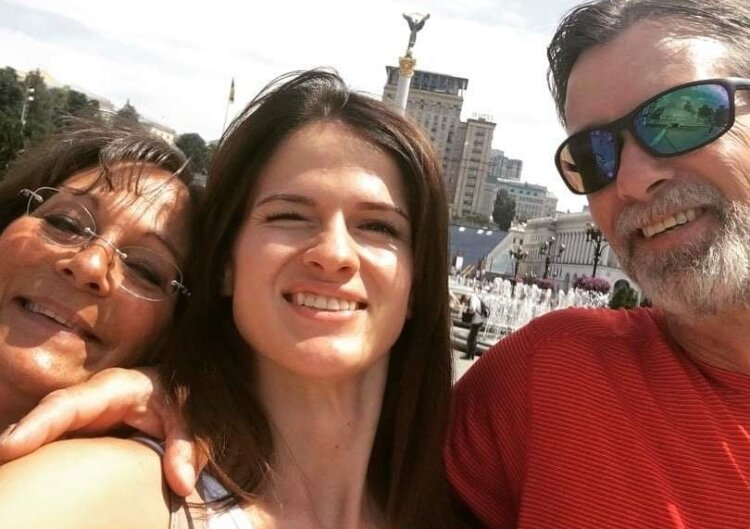 Luba Pavlovska poses with her American host parents, Matt and Gina Woods, in Kyiv a few years ago.Q: Are you able to carry on with any of your normal activities such as work or school?
A: I am lucky to have a full-time job. I am working in IT and this sphere is not blocked. We still have internet all over safe areas in Ukraine and we keep the software development process. The situation can change soon because many of our customers are from the U.S. and Europe, and they are thinking of cutting the Ukrainian resources because of some business risks. Personally, I feel sad that U.S./European companies are thinking about their money at this moment. We need their support to keep our economy going. We are willing to work, and we are still paying taxes, donating big amounts for the army and humanitarian aid, and that's all because we still have contracts with our customers.
Q: What do you need from us? Can Bay City people do anything to help you and your family cope?
A: First, I want to say thank you to my Woods family, who keeps supporting me from the very first day of war. They offered me to come to them if I need to run away from Ukraine. Also, there are many other friends from Bay City area who are texting and supporting me all the time. Thank you all for that!
I believe Bay City people can help Ukrainians by booking a flat on Airbnb. You just go on the website, book a flat in any Ukrainian city, and the money will go directly to the host. In some places, one night would cost not more than $30 in U.S. dollars.
You can also donate directly to Airbnb fund or become a host for a refugee in Bay City. Articles about this way of donating are here and here.
Q: What is the mood like there?
A: We are staying strong and doing as much as possible to help our army, people, even animals in shelters and zoos. I never thought my nation will be so united! As an example, on our way to Ternopil we had two overnights at people that we hadn't met before! We just asked for help through some chats and people offered their rooms for us to stay for a night!
We feel, we see, we hear, and we read more and more news saying the Russian army is getting weaker day after day. All Ukraine believes that the victory is near. And we will not give up.
Q: Do you have any expectations for what might happen next?
A: It is hard to predict what is going to happen next. Putin is sick. We've got through first adequate negotiations with Russia in Turkey. The Russian side promised to move their troops away from Kyiv area. It's hard to believe they keep their promise, but at least they took a step away.
We wish NATO could close the sky or help us by providing the army. But as we all understood, they are not planning to do that. Ukrainians are mad at Europe, Great Britain, and U.S. for just observing our people dying, but it is another tough topic to discuss.
One of the real scenarios we can see is sanctions that were applied in Russia will force the government and Putin's surroundings to "overthrow the king." The change of the regime might relieve territorial conflicts that Russia has with Ukraine and other countries (like Moldova or Georgia). So, Biden, keep pushing! More sanctions!