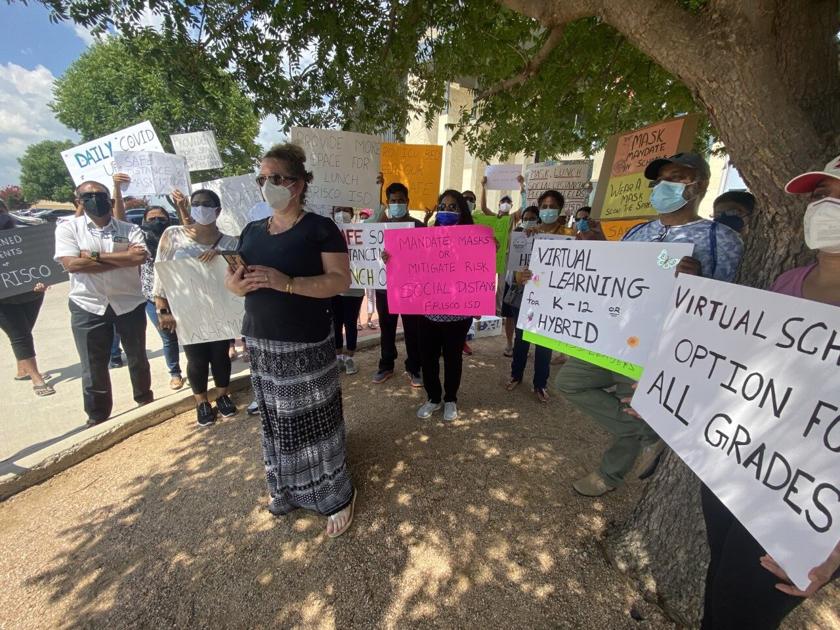 Parents call for mask mandate, online school outside Frisco ISD building | News
This story was updated on Aug. 19 to include comment from Frisco ISD regarding COVID-19 notifications and updated protocols.
Parents with signs gathered outside the Frisco ISD Administration Building Monday morning with a list of requests as students return to school once again in the midst of a pandemic.
About 25 community members came together Monday donning masks and posters that called for virtual school or hybrid options for all Frisco ISD students, a mask mandate and safe social distancing during school lunchtimes. The demonstration came days after the district kicked off the new school year.
Attendee Kelly Karthik said the group's requests come down to four points, the first being the implementation of a mask mandate in schools.
Frisco ISD has said face coverings will be optional for students, staff and visitors. That assertion comes in the wake of Gov. Greg Abbott's statewide order that in part prohibits school districts from requiring face coverings on campuses, the district has said. Karthik said the group would like to see masks be required for staff, teachers and students.
"We realize that's not probably going to happen," she said. "So the other three points we have are to better the conditions for the schools."
The group called for a virtual school option or hybrid option for grades kindergarten through 12.
Frisco ISD is currently providing a temporary virtual option for students in grades six and below for the age group of students who have not been given the green light to get a COVID-19 vaccine. Frisco ISD has said once a vaccine is available for students under 12 years old, the online option will no longer exist.
Vaishali Chati, who attended the event, also spoke in favor of offering virtual schooling for all grade levels.
"Kids are not comfortable. Parents are not comfortable," Chati said. "I think they should have the option for everybody starting from (kindergarten) to 12."
Karthik said the group is also calling for safe options during lunchtime, which she said are not currently offered.
"Kids are all piled into the cafeteria elbow to elbow, masks off and eating," she said. "We are wanting them to provide, if children ask, to either eat outside, maybe go in the hall, a gymnasium, library, classrooms, I think they need to really improve the situation."
Frisco ISD's website states campuses "will do their best to accommodate parent requests to ensure their student remains socially distanced when possible, but social distancing is not feasible in all situations."
The group's final point centered around COVID-19 data provided by the district. Karthik said the district is providing an email at 5 p.m. Fridays of case numbers from the week.
"Well, the problem with that is our children are sick Monday, Tuesday, Wednesday, Thursday, and they're not telling us, and when we find out Friday at 5 o'clock, most places are closed and now we're going to pay exorbitant fees for ER and convenient care and not to mention they probably infected our family," Karthik said. "We need more information."
Meghan Cone, assistant communications director with the district, told the Frisco Enterprise that the assertion is not true and that notifications are going out daily as cases are reported. The district has said that parents and staff at the elementary level will be notified when there is a positive case in the student or staff member's class. Parents and staff at the secondary level will be notified when there is a positive case on campus.
"Frisco ISD is sending emails this school year the same day we learn of positive cases," Cone stated.
Cone said that at the end of the previous school year, the district was sending general campus notification of case numbers at the end of each week, but students who were identified as being in close contact with the positive person were notified immediately, she said.
"If a person was in close contact last school year, they were notified as soon as possible," Cone stated, adding that the weekly notifications served to inform all students and parents, including those who were not in close contact with the positive individual.
Cone added that the district's COVID-19 dashboard was up and running as of Monday night.
"Starting the week of August 16, 2021, Frisco ISD will begin publishing weekly reports of positive COVID-19 cases and cumulative totals by campus," the district website stated earlier Monday. "The weekly figure will include all student and staff cases reported to Frisco ISD the previous Monday-Sunday when the individual was on campus during the infectious period."
Cone added that the district had updated its protocols online this week to state that schools will limit the size of gatherings and work to minimize indoor contact between students during lunch, transition times and other campus events and activities. 
Attendee Alka Jwala showed up Monday with a sign that called for virtual schooling options for all grades.
"We don't want the schools to wait until we lose some of our children and then make a change," she said.
Jwala said Monday's event followed other efforts including sending letters and emails to leaders and government officials as well as creating petitions.
"And all of those have been ignored or we get a blanket response saying, 'This is the law, we are following the law,'" Jwala said. "We are at the receiving end. Our kids are at the receiving end. We are not here to fight with any politicians or judges or anybody for that fact. We are here, we are all together. As they say it takes an entire village to raise one child. So we are asking, what is it that you can do?"