The Kitty Hawk offshore wind farm can be expected to deliver substantial economic growth and employment to Virginia and North Carolina, according to the project's economic impact study (EIS), with nearly 1,000 jobs to be created once the wind farm is operational.
Along with the USD 2 billion in economic impact between 2021 and 2030, Kitty Hawk is expected to create or sustain almost 800 jobs in Virginia and Hampton Roads, and around 200 jobs after 2030 when the project is fully operational.
Construction-related activities will bring 799 jobs in Virginia, of which 587 will be in Hampton Roads, according to the Kitty Hawk EIS.
Once the project is in the operations and maintenance (O&M) stage, it could support a total of 929 jobs in Virginia and North Carolina, with 193 full-time direct jobs and 736 indirect jobs, including wind turbine technicians, welders, vessel managers, and CAD technicians. Of these 929 jobs, 830 will be in Hampton Roads.
[The article continues below the image.]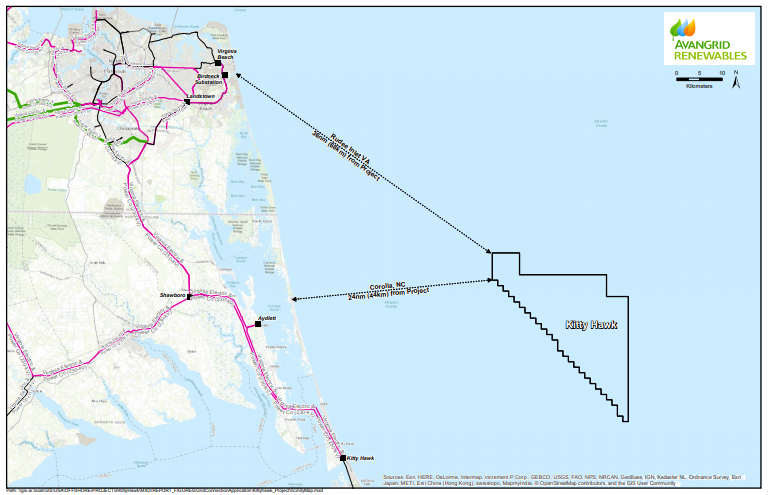 In terms of economic impact, Kitty Hawk is projected to generate nearly USD 2 billion over the next decade in Virginia and Northeast North Carolina, the study states, through construction activity, sales, net household earnings and taxes paid at both the state and local levels.
Of the USD 2 billion, construction activity and sales will bring almost USD 1.5 billion in Virginia and Hampton Roads MSA, which includes Northeast North Carolina and Southeast Virginia, with USD 994 million in construction activity and sales to be generated in Hampton Roads alone.
"During construction, the Kitty Hawk Offshore Wind project will also increase net household earn-ings by nearly $390 million in Virginia, of which $273 million will be in Hampton Roads.The project will result in $100 million in additional income and sales tax revenue collected by theState of Virginia and City of Virginia Beach. Of this total, $58 million will be paid in local taxes", the Kitty Hawk EIS states.
The findings of the study, which was completed by the Public Strategy Group (PSG), have been included in the Construction and Operation Plan (COP) recently submitted to the U.S. Bureau of Ocean Energy Management (BOEM) by Avangrid Renewables for the first phase of the 2.5 GW Kitty Hawk offshore wind project.
The first phase will have an installed capacity of 800 MW and is expected to enter the construction phase in 2024.
Avangrid Renewables, owned by Spain-based renewable energy giant Iberdrola, secured the rights to develop the 122,405-acre lease area off North Carolina in May 2017.