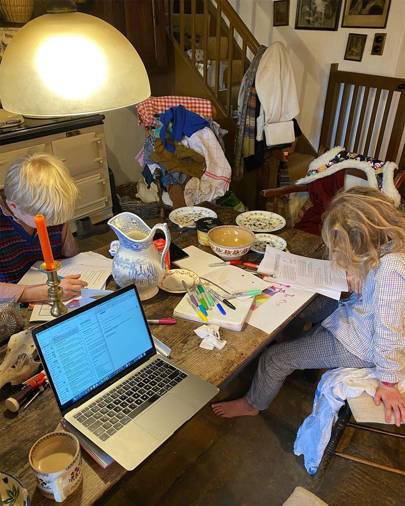 After Boris Johnston's announcement delaying the return of schools until March, the urge for society's homeschooling parents to dial up prestigious agencies for extra-curricular help was all too tempting. Are you one of these panicked parents? If so, you are not alone – The Times reported that some parents are paying up to £1,500 a week on private tutors since the beginning of the pandemic.
It seems the desire for additional support alongside homeschooling has also seen the return of the Victorian aristocrat's necessity – the governess. Gazing across society's go-to household staff agency Greycoat Lumleys' website you will be met with a flurry of advertisements for the top of the range governesses – and not one description resembles the likes of Jane Eyre. Instead, the newly evolved role includes governesses fluent in multiple languages, boasting first class degrees from top universities and even having experience hopping on and off private jets with VIP families.
Although, if you wish to adopt a more hands on approach, like the Duchess of Cambridge (who described her 'exhausting' experience with homeschooling over a Zoom call this week) perhaps take a few notes from the royal family's former nanny Louenna Hood. Norland Nanny, Louenna, has developed a 'Nanny in Your Pocket' style app which is revolutionising many of her 45,000 Instagram followers' lives when tackling homeschooling. The modern day Mary Poppins offers reassuring tips and tricks such as, 'the fact that Mummy and Daddy are having to be your teachers is absolutely bonkers, so have a laugh with your children about it'.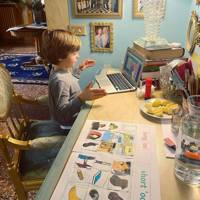 Tori Cadogan, Tatler's Education Editor praises schools for developing well established online programmes, where pupils from Eton and Harrow tune in to slick online portals Eton X and Harrow Online (which are as efficient as they sound). 'Schools have been incredible with online provision offerings beyond academics, covering everything from pastoral care, quiz events to sports classes really ensuring all ages are engaged,' she explains. 'Schools have even shown cycling to Paris virtually!'
Here are a few of society's homeschooling heroes who are getting as creative as their children when it comes to at-home tution.
Countess Alexandra Tolstoy
Only Countess Alexandra Tolstoy makes homeschooling appear as whimsical as her picturesque Cotswolds cottage; where the Anglo-Russian mother and writer balances baking with geometry lessons, practising French with her three children by the Aga and tunes into lectures on Anna Karenina during her down time. It comes as no surprise that homeschooling comes so naturally to Alexandra as her ancestor, Leo Tolstoy, received his primary education in the comfort of the family's former estate, Yasnaya Polyana (where he penned internationally recognised novels, Anna Karenina and War and Peace).
The Marchioness of Bath
Between managing Longleat, filming cooking videos and starring on Tatler's January issue, Emma Bath is also juggling homeschooling with her two children, John and Henry. The socialite has been inspiring her 75,000 followers on social media with ideas on how to keep children entertained during this uncertain time. Whether this is foraging leaves through the ancient woodland on the estate, creating ceramic pots or practising French – Emma has a spring in her step in everything she does.
Tamara Beckwith Veroni
Tamara's top tip for swift homeschooling? 'Organisation is key' says the socialite on Instagram, where Tamara has been tutoring her son, Vero, at their Chelsea townhouse. Taking top prize for virtual show and tell (Tamara borrowed her mother-in-law's rabbit) as well as setting up arts and crafts in her magnificent kitchen – supportive friend Alice Naylor-Leyland comments 'Mega Mama' and we couldn't agree more.