Following riots at the U.S. Capitol building, several people who participated have been fired or resigned from their jobs.
Supporters of President Donald Trump took to the streets in Washington D.C. on Wednesday to protest the Congressional certification of state's Electoral College votes, and eventually breached the Capitol building and were seen inside both the House and Senate chambers.
As of Thursday night, 82 people had been arrested in connection with the riots, with the D.C. Metro Police and FBI actively searching for more and asking the public help to identify them.
A Maryland-based marketing firm announced the termination of an employee seen wearing a company badge while inside the Capitol.
Navistar Direct Marketing released a statement on Thursday which said that after being made aware of the employee seen wearing the company's badge, as well as "review of the photographic evidence the employee in question has been terminated for cause."
"While we support all employee's right to peaceful, lawful exercise of free speech, any employee demonstrating dangerous conduct that endangers the health and safety of others will no longer have an employment opportunity with Navistar Direct Marketing," the statement said.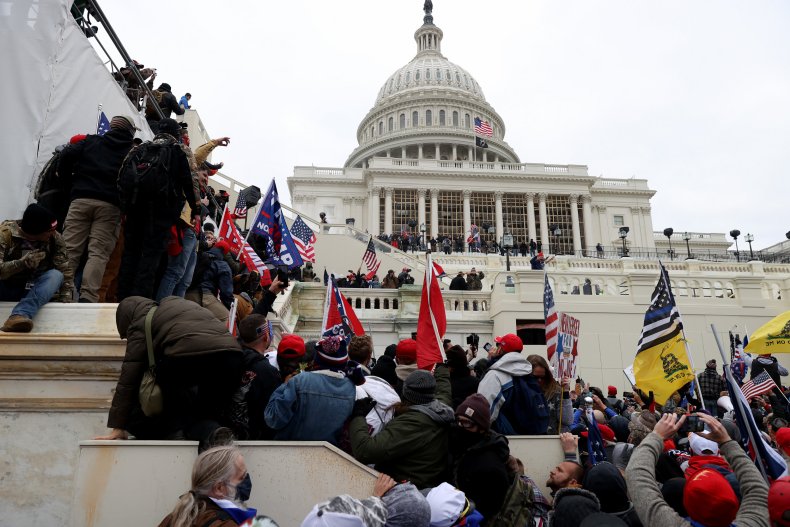 The exact identity of the employee was not released by the company, but photos of him wearing the badge were posted across social media.
Navistar Direct Marketing declined to comment after Newsweek reached out.
A Texas-based law firm announced on Thursday that attorney Paul Davis was no longer employed by the firm after he was seen in social media posts saying "we're all trying to get into the Capitol to stop this."
In a tweet, Goosehead Insurance wrote, "Paul Davis, Associate General Counsel, is no longer employed by Goosehead."
A spokesperson for Goosehead provided Newsweek with an email to all employees from CEO Mark E. Jones, which stated that "While we support our employees' right to vote and express themselves politically, we do not condone violent or illegal acts. This one former employee's actions are not reflective of our company culture or values, and we are disappointed with his behavior."
An Illinois data analytics firm also announced that its CEO, Brad Rukstales, was placed on a leave of absence after participating in the Capitol riots.
The firm, Cogensia, wrote in a tweet, "Our CEO, Brad Rukstales' participated in the recent Washington DC protests. Those actions were his own and not acting on behalf Cogensia nor do his actions in any way reflect the policies or values of our firm. He has been placed on leave of absence while we assess further."
Rukstales issued his own statement on Twitter, where he stated that after entering the Capitol building, he was arrested for the first time in his life "and charged with unlawful entry."
"My decision to enter the Capitol was wrong, and I am deeply regretful to have done so," Rukstales wrote in the statement. "It was the single worst personal decision of my life; I have no excuse for my actions and wish that I could take them back."
Rukstales directed Newsweek to his tweet after reaching out for comment.
Newsweek reached out to Cogensia for comment but did not receive a response in time for publication.
The Texas Republican Party announced in a statement that Walter West, its Sergeant-At-Arms, was removed from his role after endorsing the Capitol riots in a Facebook post, where he wrote "Deal with them taking back OUR HOUSE!" according to NBC News.
"Whereas we vigorously support the First Amendment right to freely assemble, we condemn violence and pray for all gathering in our nation's capital and those at the Capitol Building. The Texas GOP has always been on the side of law and order and will remain so," the Texas Republican Party wrote in the statement.
The Texas Republican Party declined to comment and directed Newsweek to the statement issued on Wednesday.
Former Pennsylvania state Rep. Rick Saccone was seen outside the Capitol building on Wednesday in photos posted to social media, and shortly after he resigned from his role as an adjunct professor Saint Vincent College.
"I decided to resign for the betterment of the school," Saccone told the Tribune-Review. "I've been there 21 years. I didn't want all this terrible media kerfuffle to tarnish the school. I decided it would be better if I just resigned."
According to the Tribune-Review, Saccone deleted a social media post on Wednesday, which said, "We are storming the capitol. Our vanguard has broken through the barricades. We will save this nation. Are u with me?"
In a statement emailed to Newsweek, Michael Hustava, senior director of marketing and communications for Saint Vincent College, wrote "After reviewing the video posted by Rick Saccone, an adjunct professor, we immediately commenced an investigation of the facts and circumstances surrounding it. As a result of that investigation, Dr. Saccone has submitted and we have accepted his letter of resignation, effective immediately. He will no longer be associated with Saint Vincent College in any capacity."