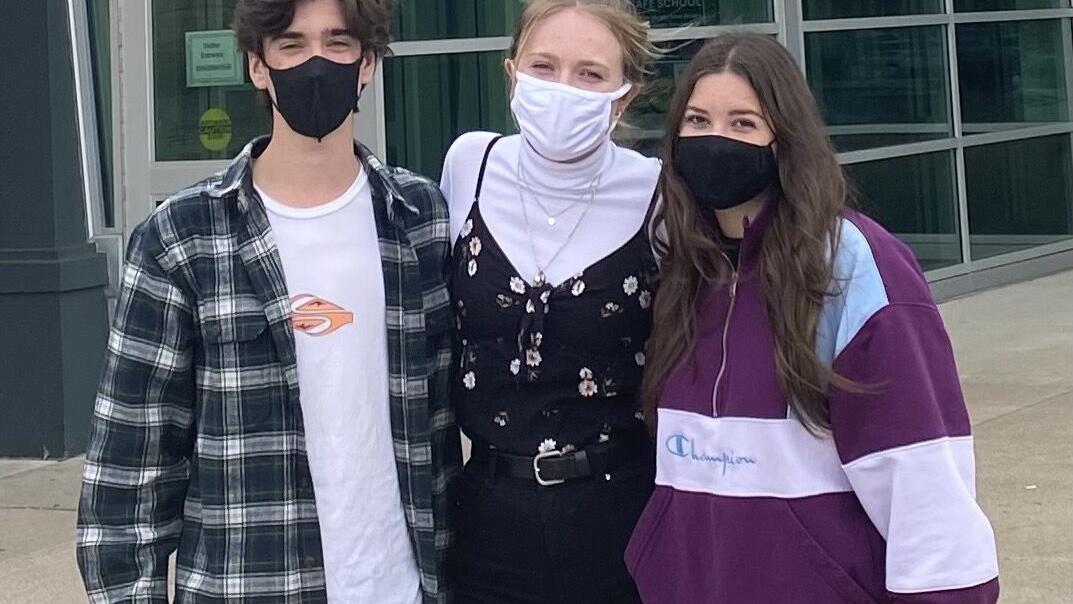 Get to know Monticello High School's foreign exchange students | News
How did you learn where monticello was and what was your reaction when you learned you were going to come her for a year as a foreign exchange student?
I got the call about receiving a family in February. I remember it was afternoon and I was sleeping. As son as my mum told me the destination, I immediately grabbed my phone and went on Google Maps to see where the city was. When I found out it was in Minnesota, I went to check the weather and I never forget what I saw: -23 degrees Celsius. 
Maewenn Le Magorou – France
To be completely honest, I didn't know where Minnesota was before being placed here. I had heard about Minneapolis and Duluth but never Monticello. So, I looked it up on Google Maps. My first reaction was, "Well, I guess I'll have to pack warm clothes because of the cold."
I remember I was told during the Summer. Immediately after hearing it, I Googled what Monticello was like as fast as I could.
when you arrived and met your host families for the first time, what was the experience like?
I've been in contact with my host family for over a year and a half, so I already knew something about them, but the very first time I met them was at the airport. They welcomed me very nicely and I knew right away that they were amazing people and they would have treated me like I was their own child.
Maewenn Le Magorou – France
I was first placed in a family in Hinckley, but I asked to be moved because things didn't work out. My coordinator lives in Monticello so I loved with her for a week while she was trying to find a family to host me. She found one super quickly and so I didn't even get to exchange with them or anything before showing up to their house. I hadn't even seen a picture of them. It was an uncommon and funny situation to meet them.
When I arrived to the airport in Minneapolis, it was empty. I was very excited and nervous. When I finally met them I saw they were very nice.
what was your favorite food and why? Was there something you don't like?
I've like everything I've tried so far. I'd say my favorite food is probably tator tots. That we don't have in my country.
Maewenn Le Magorou – France
My favorite food I discovered here was probably a chocolate chess pie because it's fully handmade by my host dad and it was very good! There are not many things that I didn't like, but pumpkin pies are a no from me.
I've tried a lot of new things for me. So far I haven't really tried anything I don't like. I'd choose Flaming Hot Cheetos of Buffalo Wild Wings.
regarding names, has there been one name that you've preferred? did it take a while to become comfortable with what you were being called?
There is no name that I prefer being called. People here mistake my name pronunciation all the time, but it doesn't other me at all. In fact, I find it cute.
Maewenn Le Magorou – France
Everyone quickly started called me "May" because my full name is Maewenn. It's definitely not a common name here so no one really knows how to pronounce it so Mae is just easier. I actually like that people call me Mae. It's cute and now I am totally used to it so it would feel weird if people called me Maewenn.
My name is Hugo and in Spain we don't pronounce G's. So I expected people wouldn't know how to pronounce it. But it doesn't bother me, it's normal. And I've probably mispronounced lots of names here too. 
talk about your involvement with sports, clubs, the arts, or other activities at Monticello High School.
When I got here I wanted to take part in the volleyball team, but the season was almost over, so I couldn't join the team. I didn't take part in any winter sports mainly because there was none that I was interested in. I am currently in track. I decided to join track not because I'm good at it (in fact, it's the opposite), but because I wanted to have fun and meet new people. The girls on the team and the coaches are very nice and they're making me enjoy the experience.
Maewenn Le Magorou – France
I didn't get to do any sports or be part of any clubs because it would have taken up a lot of time and it wasn't really compatible with my host family's schedule. However, I was involved in the Prom commitee and it was a really fun thing to do. It was a great experience.
I joined cross country when I came. I had a good time, but the season was almost over. I would have liked to play soccer too, but since it was a Spring sport I had to choose one. Currently, I'm doing track and it's fun. It's really nice to be able to finally practice and play a sport outside.
what were your academic activities? What were your favorite classes and why?
I played only one sport, track. I like this sport because you get to meet lots of people and the ones on my team are very nice and sweet. My favorite classes were Spanish because we would always play games, and advanced multiple sports. In advanced sports my classmates were very competitive and made the class really fun. I also met a lot of new people.
Maewenn Le Magorou – France
My favorite class was probably advanced multiple sports because I got to discover new sports and my classmates were really fun so we always had a good time. I also liked quilting. That class doesn't exist in France and I find it very interesting and amazing to learn how to sew and create your own quilts. The teacher that teaches that class is probably my favorite.
I was overwhelmed by the amount of classes students can take here. In Spain we can barely choose until 11th grade and they're not as fun as they are here. I'd say my favorite classes are multiple sports, engineering and coding. I thought taking Spanish would have been funny, but I preferred to take classes I couldn't in Spain.
What are your future plans? what's next for you as you prepare to leave Monticello?
In the future I will for sure come back to visit my host family and friends. I even thought about coming and living here in the U.S. but I think I'm still too young to talk about that. So, we'll see what the future has in store for me.
Maewenn Le Magorou – France
My plan for the future is to fully enjoy the rest of my experience by spending as much time as I can with the people I am close with here. I will carry on my studies once I go back to France, but I will for sure come back as often as I can.
Next year I'll finish high school and graduate. After that I'll go to college. I'll probably become an engineer but I'm not sure yet.
What do you want to say to your classmates as you are getting ready to finish the school year and go your separate ways?
I just wanted to say thank you. Even to those people I didn't really talk with. Every single person in the high school made my experience here better.
Maewenn Le Magorou – France
I want to wish them the best for the future and for college for most of them. I also want to thank them for welcoming me and helping make my experience more fun and memorable. Last but not least, this is only a see you later and not a goodbye.
I'd like to thank everyone who made this exchange better for me. I'd like to keep in touch with the friends I've made.